December 2004

12/31/04 (02:30 p.m. AST)

HAPPY NEW YEAR!!
12/15/04 (05:45 p.m. AST) Major update coming soon gang, details, site alterations, and more to follow! Stay tuned!

October 2004

10/13/04 (01:45 p.m. AST) Well hello, hello, all you crazy people out there on the world wide weeb! It's been soooo long, yes I've neglected you all, this site, and I was bashed via 'messenger' from one of my readers the other day...so I thought it was time to give you a little update. Let's see, still have the new house (which occupies a lot of my time), the new dog (which is a hand full all of its own), girlfriend got a new car last month because her used one finally kicked the bucket, got a part time job besides my regular one to just help bring down some bills, started taking the dog to "doggy school" to help with his 'obedience' a little bit....hmmmm...as you can see, I've been busy as a mother____! I attempt to find time in there somewhere to eat, sleep, and play...but there isn't much left, and thus the neglection of my site. I promise to make a concerted effort to come back and entertain you all on a regular basis...back to work now, stay tuned for more! :)

August 2004

08/14/05 (09:45 p.m. AST)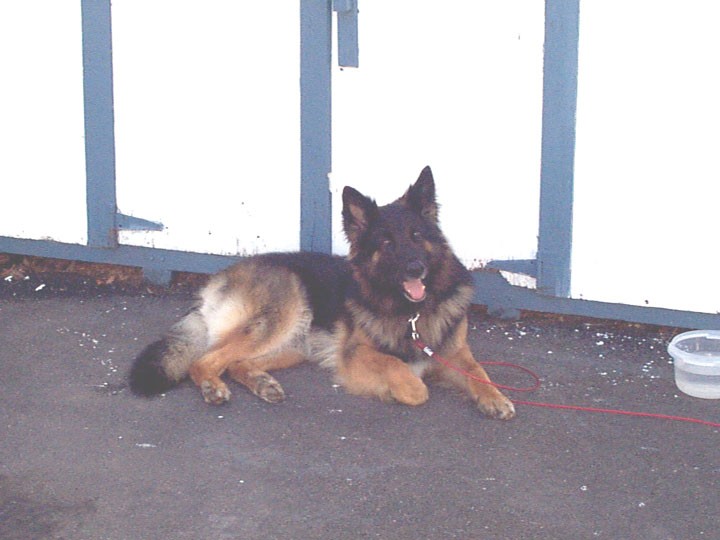 We have a new addition! Meet Scout...a furry little...I mean, furry...cause he ain't little!...friend that we rescued from a family that was moving to Ontario and couldn't take him with them.
We are 'starting' to settle in to the house a little more...it's been hectic as hell around here between work, cleaning up the old apartment, unpacking here, new dog...AND trying to eat and get some sleep in there somewhere too...whew. I am gonna try and get some more stuff posted on here in regards to the house when I get more than 5 minutes to sit in front of the computer...but for now things seem to be going well. More to follow gang...talk to you soon! :)

June 2004

06/29/04 (09:45 p.m. AST)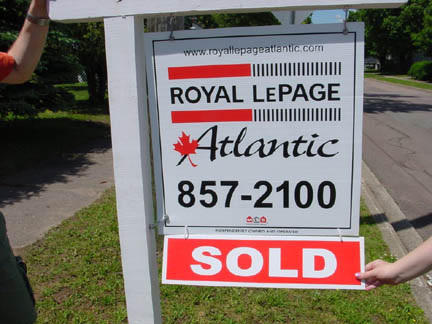 That's right folks...me and the missus have purchased our first shack! Now you know why I haven't been around in near a month...but I figured I'd take a few moments to pass on the news. After an exhausting search and looking at a tonne of "expensive garbage" we settled on a cozy little home with a lot of nice features and character...heh, and room for a home theater! Stay tuned for a "home" page (sorry for the pun) to start to pop up here soon...more to follow!
06/03/04 (03:45 p.m. AST) Goddamn...will someone inform Mother nature to turn off the tap and give this rain a rest....geezuz, I'm gonna have pontoons on my car soon! Well, got pre-approved for a mortgage last week, now the shopping begins. I can't believe what some people are trying to sell for over a hundred grand...it's ridiculous! Some of these dumps I wouldn't wipe my butt in, let alone spend 100K on...geezuz people what are you thinking!? AND, the one's that are actually decent are wayyyy over priced...150K for a little bungalow with an unfinished basement, if it has a basement, come on!

May 2004

05/21/04 (03:45 p.m. AST)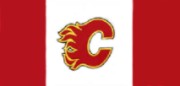 05/09/04 (03:15 p.m. AST) Hey gang, finally the sun has returned...as have I! Not much to report...working a lot, gotta get ready to hire a part timer at the store this week, then I won't be working quite as much. Then, maybe I will be able to start fixing my car, need a windshield, a spring, a ball joint, some body work, front brakes, summer tires, yeesh...it'll never end. Anyhoo, gotta get out in the sunshine...talk to you soon...thanks for stopping by!

April 2004

04/28/04 (09:25 a.m. AST) Oh my god is it ever gonna stop raining...I'm gonna have to put pontoons on my car soon...geezuz. Hey, first I want to say congratulation's to the
MONCTON WILDCATS

for making it to the final of the Quebec Major Junior League...that makes the cats one of the top six teams in the country! If they win this series...they are off to Kelowna in may for the Memorial Cup for a chance to be the "best" team in the country!
Why am I talking about Junior hockey when the NHL playoffs are on? Mainly because my hockey pool is not going as well as planned, my Habs are pretty much rolling over and dying, and those combined is pretty much making me crazy...but damn there has been some amazing hockey! Anyhoo...I've blabbed enough for one day...oh and if you need something to kill some time...check out Addicting Games these will keep you occupied for hours!! Later...
04/22/04 (11:55 p.m. AST) Well...been really busy....too much to bring up to date here...too tired to type. Hmmm...I am employed again with

Never thought you'd get me back in cellular...but when the cupboards are bare...you do what you have too.
Oh yah, remember the dumbass that ran into me a few months ago...he's challenging the ticket!! I have to go to court with my witnesses to "prove" that he hit me...dumbass...I hope they take his permit away! Anyhoo...I'll keep you posted on that...gotta go to bed...later gang!

March 2004

03/29/04 (07:45 p.m. AST) All I can say is being unemployed really blows! And job hunting just sucks even more....I swear to God there is not a more frustrating thing to do anytime, anywhere, anyplace. Not only are you told by the company 'disposing' of you that you are not good enough to be kept around...but then you are told repeatedly by perfect strangers that you are not good enough for them! So eventually...do you begin to believe it? Some might...I'm not quite there...yet. Blech!
On a good note...the NHL Playoffs start in 9 days!!! You know what that means...Hockey POOL!!! Gotta go surf the job boards...blech...later.
03/03/04 (05:00 p.m. AST) Well, kiss me freakin' blarney stone's...wink, wink, nudge, nudge if yah catch my drift...and if not Happy freakin' Saint Patty's Day! Just doing some cleaning and stuff in here and added a new link on the left to the NHL Fans' Association...check that out and if you are a hockey fan...become a member, it's free!! Well, bad news gang, I have become victim of the dreaded "downsizing"! Yup, that's right...last week I got laid off from favorite job ever! Dammit! So life pretty much sucks right now...oddly enough...I don't even want to bitch about it...imagine that!? Anyhoo...that's it for now, now that I have more time on my hands you may see a few more updates...(surrre)!

February 2004

02/27/04 (07:00 p.m. AST) Holy crap...I have one word to describe my night last night...L-O-U-D!!! It was concert night here in Moncton, New Brunswick...and with the amount of "current" acts that come to this city, this was a BIG night. (Pay attention City of Moncton...bring in more bands...this show sold out!!) The show was scheduled to start at 7:30pm and we left the house at seven for the ten minute ride to the coliseum, after some fancy driving, avoiding line ups, and then standing in line outside in -20C weather, we made it inside...I never thought in a million years that the show would start on time...BAM!...7:30pm on the nose! (We had stopped at the "merch" counter and picked up a couple of momentos) Started the night off listening to a band from Antigonish, Nova Scotia called The Trews...these guys actually surprised me, I had only heard one of their songs on the radio...but these guys rocked pretty good with their style of heavier (read: distortion) laden, funk influenced rock. The current hit is called "Not Ready To Go", one neat thing was the guitar solo and how the lead singer went back with the drummer and they "both" played the drums and really enlived the whole thing...thumbs up and after a half an hour their time was done. About a half hour stage "switch" and the next band, who was not even supposed to be there, rolled onto the stage. Three Days Grace was only the day before at NBC studios taping the Tonight Show, caught the 'red eye' back to Moncton in time for the show. Their current hit "I Hate Everything About You" rocked the place in the forty minutes that they played, mohawks, guitar solo's, raunchy vocals...and they were bloody LOUD! So it's now 9:10p.m. and it's stage setting time again...off to the concession stand! Then it was time for NICKELBACK...it was hard to describe, but a good all around ROCK show! Pyro, flames, screaming fans, underwear/bras thrown on the stage, stage crashers, guitar/drum solos...two hours later I was exhausted (and my ears hurt). I was a fan of the band before, but they made me an even stronger fan, with their show, interaction with the crowd, and overall ability to show us a good time. If you ever get the chance to see these guys and you like good, loud, guitar oriented rock...this is the show for you! Here are a few pictures to give you an idea: Pic1, Pic2, Pic3...and that is exactly what it looked like...ROCK ON!
02/11/04 (11:00 a.m. AST) Well, well, well...I've been slacking lately...again. Been reeeeaally busy, helping the girlfriend buy her first car...more on that later. I don't have much to update today, just wanted to let everyone know that I was still alive...all five of you...like you care :P Let's see what's happened, the Patriot's won the Superbowl, Nipplegate starring Janet Jackson (man did the Americans ever overreact to that one!), the NHL All-Star game came and went (which was good by the way), girlfriend bought her first car (a Honda of course!), that's about it. Oh and guys...one of the most important days of the year is coming up...no, not the anniversary of the day you bought your first power tool...no, not the day you pay off the big screen tv...the day that, if played right, could make or break the quantity/quality of sex that you have in the remainder of 2004! What day? If you have to ask...you are already pretty much screwed...but once again, I am here to save you...Valentine's Day you dufus! If nothing else, at least get here something floral (read:flowers, expensive one's)...here's and excerpt from this site from a while back...it could save you a lot of grief:
..."You have four days a year that are the most important days of the year (No not Superbowl). And yes there are others but these are the most important (No, not the Stanley Cup Final game), Christmas, HER Birthday (not yours), Your Anniversary (and no I don't mean the anniversary of when you lost your virginity, or some other thing like that, that is only significant to you...I mean your's together), and Valentine's Day! My advice guys, take down your Playboy calendar off of the wall (No, not to throw it away, heaven forbid!) take a BLACK marker and circle the whole week that these specific days land on. THEN, take a RED marker and circle the actual day itself! See, it's that simple, then not only on your favorite calendar do you have boobies to look at...you save your ass from not getting any for about a month after that day because you forgot it! God I'm a genious! Get hoppin' boys...your sex life depends on it...this is the one day your assured of getting some...BUT only if you have the appropriate gift (no not a porn video)...GOOD LUCK GENTS!.
There you go...get crakin' boys! Later!

January 2004

01/23/04 (09:46 a.m. AST) (said in the voice of the dog on the commercial "it's Bacon!") IT's FRIDAY!!! Yayyyyy! Got more snow last night...dammit...but I'm not letting that get me down...no sir, cause it's Friday! The girlfriend and some friends are dragging me out to the freakin' Rockin Rodeo tonight...sigh...but I'm not leting that get me down (groan)...because, yes that's right...it's Friday! Speaking of Friday...tomorrow I am going to try and score some Nickelback who are playing here in Moncton on February 26. Yay...Moncton is actually getting a decent concert...it's not country, someone that's 100 years old and hasn't had a hit song in 50 years, or a one hit wonder like George Thorogood who's coming in April (rolling eyes). Oh...and by the way I have a great new radio station that I listen to every morning...if you are online while you are at work...and are allowed to listen to the radio (even if you're not...do it anyway) listen to these guys in the morning. The station Star 98.7 in Los Angeles, California. Damn, listen to Jamie and Danny in the morning and you will be laughing your ass off all morning while you work...makes the day much more pleasant! Anyhoo, I'm off to enjoy FRIDAY! Oh...and SUV'z suck! :)
01/20/04 (08:30 a.m. AST) Well, well....I've obviously been neglecting you all again...what all five of you that read this site...sigh. Well, I'm back in my usual 'cheery' way. Latest report on the car is that pretty much everything that is going to be fixed until safety inspection in April, has been fixed...I'm broke...but it's fixed. So no more news on that until spring. Latest report on the accident...my back still hurts...still dragging my ass to physio, which is a pain (no pun intended), but necessary.
RANT!: OK, I've had just about enuff of this winter crap! Sweet geezuz...last week I had to deal with -45C(-49F) for like a week...that was just insane! Now on Sunday we get another 30cm of snow, so so far this winter we've had over 130cm's of snow! Nut's! To continue this rant...to all of you moron's that drive 4X4's...a four wheel drive vehicle, upon purchase, in no way, form, or manner...makes you goddamn industructable!!! You cannot drive like raving maniacs (and we all know how I feel about the idiot drivers in Moncton) and be automatically safe. Do you idiots think that because you have purchased a four wheel drive vehicle that this is a "magic truck"?? Moron's...most of you blow by me in my little front wheel drive, you're in the outside lane and driving like it's a bright sunny day with no snow and dry pavement. Meanwhile, while your doing this your ridiculously large vehicle, with it's unnecessarily large tires is kicking every foreign substance known to man all over my car, my windshield, etc. making my driving experience all the more pleasant. So you disappear on the horizon and around the corner...I meanhwhile am still cursing your dumb ass as I turn the corner...oh, accident...is that...an SUV? HA HA...it's the same jackass that just blew by me! Loser!! I wave as I pass in my little four cylinder, front wheel drive that you passed by with no consideration of whatsoever...who's indestructable now? Dumbass!
01/03/04 (11:00 p.m. AST) Well I know I haven't updated in a long time...but I've had a lot to deal with lately...a lot, hmmm, where to begin...how about...here: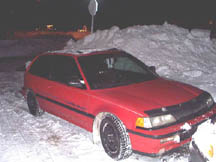 So...needless to say...I've been busy. Getting my "parts" car on the road...tomorrow my buddy Todd and I are pulling the engine out of the former Civic (Gold) and then having it put in the 'newer' Civic (Red). I've been dealing with insurance companies, physiotherapy, automotive repair, Christmas, and New Year's. Geezuz...speaking of New Years
Happy New Year Everyone! Yep, back to the beginning...a new year...hopefully this one goes better than the last one! I know what I need...more toys...I think that 2004 is going to be a toys for Jason year (who am I kidding)! One thing I noticed...the site has had 25,000+ hits to date...thanks for stopping by! I'll keep you posted because I plan on being in here a lot more...ciao!

December 2003

12/03 (11:00 a.m. AST) Ooops! Deleted this days post by accident no pun intended and hadn't backed it up...but here is the gist of it: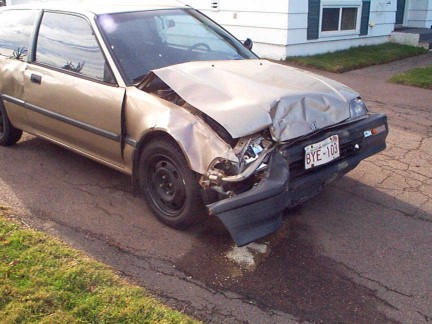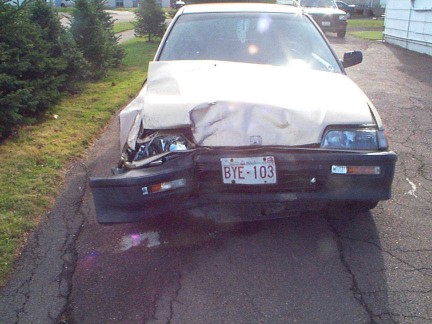 Some people shouldn't be allowed to have a drivers licence...and one of them cut me off...nuff said!
(50km/hr through an intersection and some idiot in a Dodge Ram cuts me off!)

November 2003

11/18/03 (11:00 a.m. AST) Well, well, I've been neglecting this place again. But I have been busy, I have been doing a lot of auto work lately and just haven't found the time to be in here...last weekend I removed from my parts car the bumper, bumper trim, both head lights, the manifold heat shield, two fenders, swapped guage cluster from that car to mine, ground down and primed and painted the rims for my winter tires. Speaking of winter tires, I got mine put on today some brand new Cooper - Weathermaster ST/2's. Man it's sooo different even with no snow driving with tires with tread! Anyhoo, I'll give you an update later on these tires once some snow fly's...I'm almost looking forward to it...how freakin' bizarre is that! I also added a link to Cooper Tires on my Car Page if you guys want to check them out...they seem like a solid, good gripping tire so far. Time to go...will keep you posted!
11/05/03 (01:00 p.m. AST) Hey...goddammit figuring out which winter tires to buy is a royal pain in the ass! Factor in this, factor in that, don't waist your money on those...sweet geezuz! The only reason I'm putting myself through this stress is because I don't want any more expensive fender bender's caused by all-season tires...or going down wheeler blvd. at 100km/hr > backwards! Sigh...but...I swore after all of the slipping and sliding I did last year I'm not putting myself through that again.
Well, the Canadians lost "again" last night...sigh, it looks like the other shoe has dropped and they are back to their old ways...dammit. I wanted to go to a game this winter but...not until they start winning...I'm not waisting my money. Well, off to grab some grub...ciao!
11/04/03 (11:50 a.m. AST) Hey gang, it's Tuesday...yay...we're halfway to halfway through the week...heh. Just want to give you guys a heads up that on the Car Page I have added a few new things with more to follow, plus I have added yet another page! What with winter well on it's way...sigh...I thought that some of you could use the information on how to Winterize Your Car! Anyhoo gang, check that out...lots of work to do...gotta go...ciao!
11/03/03 (10:50 a.m. AST) Well, Monday...boy did that weekend fly by in the blink of an eye, don't have any recollection of what I did Friday night, Saturday...well, that was reasonably porductive, I got two new mirrors on my car from my "parts" car and started pulling the wheels off so that I can get ready for winter tires...then it was off to the camp. Yes, low and behold I did survive the camp, I actually had a reasonably good time, didn't get much sleep but did survive. Oh and Cindy...a mouse that is 2" long should not send you screaming from the building...sigh. Anyhoo, that's about it, I hope to have a new page up soon detailing the adventure that is tearing parts off of my parts car and putting on my car...stay tuned for that. But that is about the extent of my weekend...look for new stuff soon...ciao!

October 2003

10/31/03 (10:05 a.m. AST) Well, Happy Halloween and all that jazz...used to love this Holiday but I think the enjoyment factor is in direct corellation to the amount of sugar you ingest, and maybe alcohol...and that's a whole different story. Well, picked up my used car last weekend, thanks to my buddy Todd for helping me out there and giving me a place to store it. There will be some pics soon....I hope. May be heading off to Ontario for a couple of weeks next month for work related activites, not sure yet, will keep you posted on that. Ahhh, it's Friday and its the weekend, not that I know what I'm in for this weekend as I am off to some hunting camp and hour from here with the girlfriends family and friends...should be...ahhh, ummm,...interesting. If I survive, or am not in jail from domestically related homicide...I'll update you on the whole she-bang on Monday. Ciao!
10/24/03 (10:00 a.m. AST) First let me welcome this glorious day called Friday...ahh Friday...the pinnacle of the week...sigh. Well, I have made arrangements to pick up my second "parts" car tomorrow, should be interesting what 'additions' I can make to my ride and see how much I can actually tweak it. Well, my Habs won again last night beating the Islanders...tied for second overall in the league...good start. I love it! Not much else to report, I'm sure the cold weather bitching is about to begin as I actually had to pull out one of my winter jackets this morning...blech. Anyhoo...have a good weekend.
10/22/03 (09:00 a.m. AST) Well, I can't really say I've been faithful to this place lately can I!? My followers (all half dozen of you) must be shocked. I promise I will really try to be more diligent in my postings...so what's new...hmmmm...I'm really not liking this cold, rainy crap that we've been getting lately...that sucks. I definately need a tropical vacation...time to buy those lottery tickets. I bought another car, well, I've agreed to buy another car...I haven't gotten it yet, hopefully this weekend. It's exactly like the one I have except a "Si" version thus I will be able to spruce up my ride a little bit...add some stuff, fix some stuff...stay tuned for that. Well, my beloved hockey season has begun and my Habs are tied for first (currently) overall in the league...who would thunk that?!? Hey, the Habs are winning and the Maple Leafs are losing...life is good :)
GAME ON!!!
10/07/03 (10:45 a.m. AST) Well, well, well...I heard a word on the radio yesterday that I didn't think that I would hear, or hoped not to at the very least, for a long time yet...Windchill! Geezuz! Already, and yes folks, that means the annual/seasonal "bitching" about frigid temperatures, wet weather, ice, and worst of all that white crap...no wait...worst of all X-MAS...is not far off! God I hate winter. For the first time this week I heard the word "minus" in a sentence used during a weather report...sigh, I guess it's inevitable but hey, I can still bitch about it! Not much else happening gang, between staring at a computer at work all day, and staring at one doing Ebay work at home, I just haven't had the desire to update. But, I promise, that I might possibly think about doing it more, besides...heh, winter's coming...I'm sure I'll have plenty to bitch about in here...oh and GO Arnold!


September 2003

09/26/03 (10:00 a.m. AST) Well lookee here...it's a Friday...imagine that!? I seem to be developing a habit of only coming in here on Friday...weird...maybe it's just that I am so excited that the nasty evilness of the work week has come to an end that, and that the ever so wonderful weekend-ness is about to begin, that I just have to share it. Anyhoo, I'm starting to get that craving to 'build' something, got turned on to this place called Lee Valley Tools...shite they've got some cool stuff at this place. Well, maybe I will be constructive this weekend and actually make something...heh...probably a big pile of sawdust...but that is "something". Heh, anyhoo, speaking of constructive I hope to get some more stuff added in to this place soon too...so stay tuned for that. I'm out, later.
09/19/03 (12:30 p.m. AST) Wheee...it's Friday...that means two whole glorius and juicy days off!! Yay me! Just a quick not that I got the Glossary of A/V Terms is back up and running again on the Home Theater Page
Anyhoo gang...not much else happenin'...goin outside now for a 'at work BBQ', the last one of the year!...ciao!
09/16/03 (12:30 p.m. AST) What's up gang...just doing a lttle bit of cleaning in here today, getting rid of some "spam" that somehow appeared on one of my pages...damn spammers. I am also working on getting my Audio/Video Glossary on the Home Theater Page back up and running, I had thought that I had accidentally deleted it, and it was a great deal of work to create (months), but I think when I was cleaning out my hard drive the other day I might have found the majority of it...we'll see and I'll keep you posted. Anyhoo gang, not much else to report other than I need sleep and I think I'm going to go get lunch now...need sustenance...ciao!
09/15/03 (09:30 a.m. AST) Holy crap! We're half way through September?! Already!? Geezuz. I haven't been in in a loooong time, been doing a lot of work lately both at work and at home on Ebay so by the time I get done staring at a computer all day, staring at a computer for a couple of hours when I get home, guess what get's sacrificed...yep, the web page. I watched the premiere of Enterprise last night, wow that Jolene Blalock looked daaaaamn good in some of those new outfits!! Damn near lost my mind when sh took her shirt off (no, no boobies, but enough flesh for you not to care). Anyhoo gang, gotta get back to work, I'll try and get in and update more....but the NHL pre-season starts in 3 days...so I'm not making any promises! Heh...
09/03/03 (12:30 p.m. AST) Holy crap! September?? Wow, it just seems like I got back from vacation! Speaking of vacation...it wasn't bad...drove almost 3000kms, went into 3 provinces and one state, but all in all it wasn't too bad. Went to some horse races, bought some cheap clothes, climbed a mountain, ate at some great restaurants...all kinds of stuff! Holy shite is it ever getting cold out early...what is up with this 5 C temps in early September at night!! Buckle up gang we are in for one bitch of a winter me thinks...and lot's of bitchin' about it by me! Heh. Well, that's it for now, Ciao!

August 2003

08/15/03 (10:00 a.m. AST) Yipppeee, Friday! And not just any Friday....in seven hours...I'm on vacation!!! Yay me! A whole 10 days of juicy "no-get up early-have to go to work-slave to the grind" goodness! Again, yay me!
Ok...I have to mention this, I see the moron's at the power company are up to their usual tricks. Yah, let's put the entire Eastern half (or right side for some of you) of North America on the same electricity grid and see if it doesn't overload...geezuz. That's like taking every appliance, piece of electronics equipment, hair dryer, toy, sex devices, etc., and plugging them all into the same outlet in you house, on one really big power bar. Then you turn them all on, everything running...ok, that didn't trip the circuit but it's close...let's turn on the lights in every room! RRrrrr...blackout! Morons.
Speaking of "oddballs"...heh...I see my friend Captain Overkill, a.k.a. Paul is up to his usual tricks again...sigh. Anyway gang, that's it for me...see you all in a week with vacation news or war stories...depending on where the girlfriend decides to drag me in the next ten days! Later!
08/08/03 (04:00 p.m. AST) Wheeee, Friday! Upon us at last in all its juicy goodness, what a week, slice my hand open, get a really annoying dry cough happening, then as a result I woke up this morning feeling like somebody poured napalm down my throat while I slept! My throat is burning like the four corners of hell! Crap it hurts, so stand back I'm cranky as hell! I said slept a minute ago...heh, if you call closing my eyes for a few seconds/minutes in between bouts of coughing...geezuz I'm tired. But it's Friday, I'm off and hopefully something miraculous will happen with my throat before the weekend is over...later...frikkin' viruses, you go squish now!
08/07/03 (01:00 p.m. AST) Hey gang, been busy again, I did some sprucing up and correcting of links on a few pages, I added some links on the 'city' page (mostly to bars), I've added a couple more links on the home page (sometimes I wonder why I have a links page). Other than that, not much happening...other than the fact that I woke up this morning coughing and with a sore throat on top of my hand being sliced open the day before...sigh...I better be healed and not sick for my vaction in 8 days! Gotta go...check out the new links...look for more soon.
08/06/03 (03:00 p.m. AST) Well, well, well....have I been a busy little boy today. I created three new pages, edited two more, and totally revamped my History page. Wheee...what's next? We'll see.
Well, spent about eight hours at the hospital last night, I was doing dishes and had my hand inside a glass...yep, you guessed it, it shattered. The only reason I went to the hospital is because it wouldn't stop bleeding...two hospital's later (really long story) I sat there thinking I was gonna need stiches (because they told me I did!). Six hours later, they decided I didn't need stitches, put "steri-strips" on my cut and sent me home...at 3:00a.m.!!! Bastards! The alarm clock goes off at 6:45a.m....So everything I've done today is on pure adrenaline baby!!
Speaking of adrenaline...here's a rush...in 9 days...I'm on vacation! For a whole ten days! I have NO idea what that's like...I haven't been on vacation in...in...holy geezuz...EVER! Yay me!
I've done some more work on the car lately, look for an updated car page to appear soon, with lotsa pics and how-to stuff (but not today). The next thing that I am "attempting" is fabricating some form of console out of fiberglass...should be interesting, pics to follow.
Look for some new links to start appearing here soon as well, for example on the left you will see

.
Gotta go gang...look for new stuff soon! Ciao!

July 2003

07/29/03 (09:00 a.m. AST) The day has finally come. The day we have all been waiting for. The event that has been months in the making. The event that has had us all waiting with sweaty palms. The new & improved,
HAS ARRIVED!
07/21/03 (12:30 p.m. AST) Will this week just die already...oh crap...it's Monday...sigh...oh the insanity! Speaking of insanity, last week I replaced the front pipe on my exhaust and this weekend I replaced 3 ball joints, an upper control arm and a wheel bearing...I thought it was never gonna end. Remmeber a while back when I said I was working on my car...I wasn't kidding. Well, Monday...what to do...crap. Guess I better do some work...is my life getting really boring...I'm hardly updating anymore...either that or it's so eventfull I just don't have time...heh, let's run with that one. So I guess because I'm so busy and have sooooo much to do I'd better go...ciao!
07/08/03 (11:00 a.m. AST) Well, well, it's been a while...I hope everyone survived the Canada Day & 4th of July Holiday's, heh, not too many hangover's. Been swamped at work lately, trying to get ready to go on vacation....mmmm vacation. Went to see T3 the other night, not bad, Well, let's just say...T4? They left it open big time...a few surprises, but not near as surprising as T2 of what the "new" terminator could do ( Note: She still is extremely H-O-T and when she first pops out of the "future bubble" naked...great ass!) . A few storyline surprises that you sort of go "oh really?". But hey the girlfriend liked it, which is definately kudos to it seeing as she didn't even see the the first two from beginning to end. It definately did not close off the storyline. Overall... 3.5 / 5 Speaking of hot, went to Voodoo on Saturday night, boy were there ever some 'head turners' in there...damn. Speaking of head turners, heh, spent about 5 hours at Magic Mountian on Sunday...that was fun...plus there were some nice bikini's to look at...heh. Starting to develope a pretty good tan because of it too. Oh and I've been meaning to tell you guys about a great new website that I discovered, it's called...BBQ Bible.com! This site rocks...if you like things off the barbie! Anyhoo gang...I'll leave you with that!
07/01/03 (08:15 p.m. AST) HAPPY CANADA DAY EVERYONE!!!

June 2003

06/25/03 (04:00 p.m. AST) Wooo Hooo...I am sooooo loving this weather...it's 32C right now, sunny, and it's supposed to stay that way until next week! Sweet! Even better, I just bought a new mountain bike so I can actually get out and enjoy it! Didn't buy an expensive one, bought a cheap one just to make sure that my battered out of shape ol' body could still handle it before I invested too much moolah! It's the big summer staff party at work this weekend out at the boss's cottage...can't wait for that...Sea-doo's, Kayaks, Power Boat, booze, steak, lobster...oh yeah baby! And Kudo's to the 'higher ups' for doing the same thing as last year, renting van's to take us all there and back with sober drivers! Good move. So Sunday should be farely rough, but hey, what the hell, plus that's...bonus day!!! Yay me...anyhoo gang, off in an hour, and out to enjoy the sunshine!!! Later!
06/21/03 (09:35 p.m. AST) I logged in today to do a little updating and spread some cheer, but alas, I cannot. Everyone knows that I am an avid hockey fan and today we lost one of the greatest men the game has ever seen:


Roger Neilson: 1934 - 2003
Farewell, our friend, may your stick never break, may the ice always be perfect, and may the goal light always shine for you...
06/13/03 (09:35 p.m. AST) Whooooo....Friday the 13th...nervous? Whatever. Hey great news...I hold in my hand a nice $100.00 cheque...my winnings from this years Hockey Pool...ended up in third place out of 45 guys! My best finish yet! Wanted to say thanks to Dan at Deadbodies for giving me a peek at the new Sexiest 100...it's looking good...can't wait for the launch! Well gang, it's the weekend, it's Friday...I'm grabbing a brewskie and sitting back...later.
06/09/03 (08:55 p.m. AST) Hey gang been a while, not much happening, that's why I haven't been in. Been starting on some car repairs, trying to get my little Civic back up and running and in tip top shape...but that cost the dinero that I don't have. Don't worry Paul, I am not turning it into a "Rice" rocket. Anyhoo, some good news, I have it on good authority from Dan at Deadbodies that the 2003


will be up and running in the next couple of days. Woo Hoo!
Speaking of new things...I'm hoping to have a new page up and running soon with a little "canuck" flavour to it. I haven't decided which one I'm gonna use...I've got a couple of different pages 'coded' up and ready...just not sure which one I want to launch...watch for that!
Not much else happening, working, doing a little Ebay selling, more work, dreaming of summer....mmmmm summmmer!...and dreaming of vacation, mmmmmm vacation. Anyhoo, gang...off to watch the hockey game...on ESPN I might add...goddamn CBC preempted the freakin' seventh game of the Stanley Cup final to cover the goddamn NB Provincial Election...stupid CBC...as Paul would say...you go squish now. I'm out!
06/01/03 (11:55 p.m. AST) Wow...this is amazing...who can believe that the year is almost half over. Hey, we just passed 20,000 hits on the site...thanks for dropping by! Hopefully you enjoyed your visit and come back often! Went to see that new movie, Wrong Turn tonight, Eliza Dushku looked as hot as ever...and the movie wasn't bad either...heh. Not much else happening, working a lot, started listing on Ebay again, trying to save some cash for vacation in August....mmmm Vacation, not sure what I'm doing yet...may take road trip, one stop might be at Six Flags. Anyway...gotta get to bed...back to work tomorrow...groan...later.

May 2003

05/20/03 (09:25 p.m. AST) Well, first spring/summer long weekend of the year under our belts...and boy did my start off with a bang...Friday, get out of work, my car won't start (it's done this before, only on hot days, and it was about 25C on Friday) and I'm the only one left in the building...sigh. So I fiddle with that for about an hour and finally the thing rumbles to life. So Saturday rolls around and I have to drive the girlfriend to work...guess what, yup, car won't start...she wasn't impressed she had to spend $10 on a cab (that nearly killed her going through a red light). Fortunately it did not do this the rest of the weekend, hmmm what else, burnt my lunch, then deleted something on my web page that I'd worked about a month on, broke something ( can't remember what right now, must be the sunburn on my forehead frying my brain), needless to say my day did not go well on Saturday. So Sunday rolls in, we go to the zoo with some friends, praying the whole time the car is going to start when we come out. It did. Then we were invited to a friends house, but had made plans with the inlaws, didn't go with the inlaws...spent our last $20 on booze for socializing with friends that night, just about to leave to go to their house...they cancel. Nice. (Note: Sunday found some old gift certificates for the theater kicking around the house and went to see X2...so that was a good thing...good movie) Monday, did some repairs to the ol' BBQ, new burner, rocks, etc. Then did some comsuming of animal flesh...watched that 'Martha Stewart' movie on NBC last night...anyone else find themselves saying this last night...'What a bitch!' Man that lady be psycho! Speaking of TV...last night was the final,final...final episode of Buffy. It's a sad, sad day...stop laughing...this was one of the best written shows ever, hands down. I can't wait to get all of the box sets...which I will...watch the re-runs...you'll be hooked. Hope there's a spin-off. Shite, I've been typing forever...gotta git...later.
05/11/03 (04:44 p.m. AST) Heyyyy...what up y'all! Been ages since I've been in and posted...gotta try and change that...first thingy i have to do today is say HAPPY MOTHER's DAY to all those fine ladies out there that put up with all of our crap for so many years and just keep goin'...kudos to you ladies.
I went to check out the SHAGGY concert at the coliseum Friday night...I just have to say...I went in with reasonable expectations and he blew them out of the water. You can tell this man has been doin' this a long time because every person in the building was on their feet and dancin'! The tickets were a little pricey @ $44.50 a pop but he put on a show that made you not feel so bad about spending the cash. As for his opening act...blech! I think his name is spelled Naseri or something like that...but damn he was bad...anyway...a great time was had by all. If you ever get the chance to check out mr. lover lover...it's worth the price of admission, it'll surprise you how many songs you actually recognize!
I'm gettin' ready to make a few more changes to the web page, maybe a new page or two...might clear the 'Canadian Hotties' page...it doesn't seem to be catching on like I thought it would...anyhoo look for some changes and enjoy...feedback is appreciated, use the e-mail at the bottom of the page. Gotta get back to a home improvement project I started on the weekend...God I love Home Depot!. Ciao!
05/02/03 (10:56 a.m. AST) Friday! Wheeee! Love it...what to do with the weekend...hmmmm. Well, our new Home Depot opened last week...I'm very excited about that...hell it opened on Wednesday and I was there 3 times by Saturday. Heh...so maybe some renovations of some sort are in order...or something.

April 2003

04/28/03 (11:46 a.m. AST) Ok, either all of the alcohol abuse from my youth is starting to take effect or I'm losing periods of time...a week has gone by since I've posted. Well, it's not as bad as Paul who "finally" updated for the first time in a month!! What's new...hmmm...not much...I have no life...I think I might have to buy me one of those. Speaking of buying, I still haven't bought a bike yet...still working on it...sigh. To many "want" not enough "fundage"!
Started working with a new program on the weekend called
Sound Forge 6.0...this thing rocks...it was cool when I overlapped "Crazy Train" by Ozzy with two Bass Mekanik tunes! I can't wait to see what I can do with this thing...mind you it's not an SL-1200 like I'm used to using...but this could be interesting...anyhoo...time to git! Later.
04/22/03 (10:00 a.m. AST) Hey, wow...a week has gone by?!? Hardly noticed, let's see...long weekend last weekend was pretty uneventful, Paul is still missing in action (he says he's busy) so no update over there in almost a month. Wow, 17C yesterday! Could spring actually be here??? Don't want to get my hopes up just yet, hell, my luck it would snow tomorrow...geezuz, my luck, it would snow 5 seconds after I started to get my hopes up. But boy that 17C was nice....time to get back to work gang!
04/14/03 (09:05 p.m. AST) Just a quick blurb today gang, I had to come in and give kudo's to fellow canadian Mike Weir on his win at the Masters!
Way to go Mike!

04/13/03 (10:05 p.m. AST) Wow, haven't been in here in a while...I guess I've been too depressed with all of this crappy weather...sigh...yes, more snow...winter just needs to die already...die! die! die! I guess it gives me more time to search for a bike for summer but geezuz this is getting ridiculous. Anyhoo, for some reason Paul has gone M.I.A. he hasn't updated since the 28th of March...wow, he's usually more dedicated than I am. Oh well, I'm sure an explanation will come at some point. Anyway...playoffs are on and gotta get back to the game! Ciao!
04/07/03 (10:05 a.m. AST) This is a beautiful sight...two fold...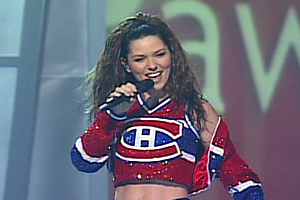 ...Shania & in a "Canadians" outfit...heh (From last night's Juno Awards).
04/06/03 (10:08 p.m. AST) Sunday already...sigh. Curled my last game of the year for the company team today, we lost but hey we still finished with a winning record in the 'A' division so that's cool.
Started to watch the juno's for a while tonight, Shania looked hot, especially in the Montreal Canadians outfit!
I'm sitting here now doing paperwork that I brought home with me...sigh, there just aren't enough hours in the day.
Hey Tom Cochrane just got the lifetime achievement award...very cool.
Ok, enough of this snow crap....God will winter just e-n-d already! Anyhoo gang, gotta go finsih up this paper work...heh...tomorrow is Hockey Pool day...you all know how much I look forward to that! Later!
04/01/03 (06:45 p.m. AST) It's "April Fool's Day"...how did foolish people get so high up that they deserved a whole day? It's beyond me...sigh. Well, unfortunately I have to bid a fond farewell to "denis bastarache.com" for some reason Denis has desided to remove his site from the "weeb"...? Unbeknownst to me I have yet to uncover the reason...perhaps it is some conspiracy by the government and they realized he is really a drunken alien and have forced him into some government test and he has not been allowed computer access to make his updates. But in any event, farewell, the degenerates and normal folk will miss your whimsical anecdotes. Speaking of websites, if you happen to click on the top 100 sexiest women link...do not adjust your sets...that's Dan's (of deadbodies.com) idea one of those foolish jokes we discussed earlier...sigh. Well, I might have found the Bike that I want...it's got a cool model name too Hardrock!...now I just gotta get the guys at Bungay's Bike & Snowboard Shop to hook me up...oh, and find the cash...because this baby ain't the most expensive...but it ain't cheap either. Anyhoo...gotta get going...later.

March 2003

03/31/03 (10:53 p.m. AST) So Monday has arrived in all it's glorious goodness...blech. So I go to bed last night listening to weather reports of 80mm of rain, freezing rain and all that crap thinking nothing of it. I wake up to no power (again), an inch of ice on my car, and roads flooding like crazy. I couldn't take my usual way to work because it was flooded, everyone was driving like a grandmother, which aggravates me on a good day, and I was almost late. So chilled, grumpy and generally in a foul mood I slide into work. Then find out I have to go back out in it to run an errand for work...sigh. There is flooding everywhere...it's quite amazing actually, I just hope my house is on a big enough hill. In other news my habs choked miserably again and didn't make the playoffs...dumbasses. Oh well, next year...heh.
Oh! I discovered this cool band, well I like 'em, on the weekend. They are called Evanescence They were featured on the new Daredevil movie soundtrack. Check them out! Anyhoo, coffee break done...time to do some work. Later.
03/27/03 (08:08 p.m. AST) I'm tired, I'm hungry, I'm grumpy...deal with it. If you need to be entertained today go play in my new poll above, it has been revised yet again...
03/24/03 (06:46 p.m. AST) Wow...March is almost over...imagine...but the good thing...the temperature 'might' actually get into the double digits this week!! Woo hoo! Well, no one seemed to like my last "poll" so I changed it to a more 'summer' motivated poll! Well, it's Monday, but thankfully it's almost over, tomorrow I get to spend the afternoon in a seminar for work...sigh...the only bonus from that is I won't be at work...then again it might make work easier...so that's a plus too...so it's all good I guess. Summer...sigh...gotta get a bike...gotta get a bike...sandals, shorts...ahhh...so close now. Woo, sorry zoned out there for a minute. Anyhoo, started learning some new songs on the guitar, some of you may have noticed that I added a Guitar Page to this site...check it out, it may spark those who have thought about learning to actually go for it! Oh, and I had to put up a picture that a friend sent me today...it's hilarious...check it out here. Later!
03/21/03 (10:30 a.m. AST) Well, well, looky-looky...that wonderful, glorious, stupendous thing called 'Friday' is finally here...bueno! Well, the 'war' began...good ol' boy George 'dub-ya' Bush got his britches in a bunch and pulled the big sitcks out of the gun closet...doesn't he remind you of "Boss Hogg" from the Dukes of Hazzard?? Think about this...it might surprise you...I'm not talking physically, I'm talking about personality. Check out the "poll" above and "VOTE" It's quite scary when you think about it. Speaking of thinking, we're thinking about going to see Big Daddy Shad tomorrow night at the Right Spot (down by the 'Pumphouse' on Orange Lane) if anyone wants to partake of a great local blues band...quite a few people from work here are going...should be a good time. But other than that gang not much is happening, the weather is starting to look like it might actually be contemplating letting Spring happen...God that will be nice...can't wait, hopefully I'm going to get a new mountain bike, maybe I can get Paul to use his connections at Bungay's Bike & Snowboard Shop so it won't cost me a fortune to get a decent ride! Hook me up Paully! Later.
03/17/03 (10:00 a.m. AST) "Caid Mile Failte (One Hundred Thousand Welcomes) - Happy St. Patrick's Day!"
Well now, it's the day of celebrating for the Irish and the wannabe Irish...but I can honestly say "Kiss me I'm Irish!" because I do have some in me. Haven't been in in a while, swamped at work, and am still swamped but figured I better get in here and say something. I recently finished the Glossary of A/V Terms on my Home Theater Page. Well, spring has almost sprung, they are saying that we may actually make it to the double digits in the "positive" some time this week! Wow! Anyhoo gang, just heard an e-mail pop into my inbox, back to work.
03/07/03 (07:45 p.m. AST) Friday...oh glorious Friday!! Mind you I am glad it's Friday, but it sort of snuck up on me today...must be because all of the days are running together. It got a little annoying everyone talking about their trips to tropical places this week...sigh...someday. So what the hell is up...are the states going to war or not? This is beginning to get a little tiresome...I mean if they don't want war...send someone after Saddam, geezuz they can see me taking a dump from a satellite in space but they can't get to this guy? Riiiigghhht! I mean come on...when George W. I'm a freakin' dufus Bush pre-empted Survivor last night! I mean what is this world coming too?!?!?! How dare he just stand up there and say the same damn things he's been saying for weeks...just do something already and stop cutting out my TV shows...geezuz I mean call it into the networks and they'll tell us when the news comes on, or call the papers and tell them, we'll read it in the morning! But dammit, leave my TV alone! Have a great weekend everyone!
03/06/03 (12:45 p.m. AST) Hey world. Man am I swamped...this working for a living is for the birds, or at least for someone else...man am I swamped this week. It's not fair, In the last month one of my co-workers has spent a week in the Dominican, and two more have gone to Cancun, and a third is going there next week. I don't know how they do it, I can't afford to go to the corner store, nevermind somewhere tropical. G'dammit! I don't remember the last time that I was this sick of winter...ever! I have even been looking at vacation packages and crap...more self-punishment than possible reality.
Paul mentioned something on his site today about Hooters starting an airline of their own. Heh, I'm going to have to check that out...maybe they could fly me somewhere tropical...heh, now that's a flight you don't care how long it is. Hopefully soon I'm going to be able to make some other alterations to the site here...maybe on the weekend. So I was having a little playfight/wrestling match with the girlfriend last night...what is it with women, it must be genetic that no matter how many times they hit you...that EVERY time it is in the same damn spot! Also, women have got to have THE boniest hands! So that is not a good combination...! Everytime she cracked me it was on the same spot on the bicep...hmmm...it would explain why my hand keeps going numb, heh.
Anyhoo gang, gotta go see if I can find some grub up in dissa h'ere j-oint! Later.
03/03/03 (02:34 p.m. AST) I need a vacation, a long one, a warm one...sigh...February gone already, it's still too damn bloody cold out, there's ice everywhere, I'm tired...it's just a wonderful day in the hood today. Dammit. I'm probably going to babble today because I'm way to tired to think and it's just not worth the effort to concentrate. So thanks for dropping by, welcome to March, try not to freeze your nuts off, take your vitamins, don't take any wooden nickels and....b-bye.

February 2003

02/24/03 (03:31 p.m. AST) Monday...sorry...just woke up (yes I've been at work since 8:am), wow did that weekend go by in a flash. Hey at least I passed my course with flying colors on Saturday, it was something for work and it started wayyy too early in the 'am' but hey I survived. Well, the 'groanies' (aka the Grammy's) were on last night, yah, yah...who cares, that's my point...no one! Heh. But I got to watch that movie My Big Fat (I had a low budget but everyone loved me so I mad a killing) Greek Wedding last night. Needless to say I went in with extremely low expectations, but it actually wasn't that bad, I'm not raving about it, but it's not bad. ANyhoo...I'm outta here...
02/21/03 (01:01 p.m. AST) Friday? Did someone say it was Friday!? Thank GOD! I thought this week was never going to end. Man am I tired, I think it's time to change my bedtime, because I am not getting entirely enough sleep. Wow, when you literally have to "pry" open your eyes in the morning and it takes about thirty seconds before any focussing action happens...your tired. To top it off, I don't even get to sleep in tomorrow, I have to go take some friggin' course tomorrow...and I have to BE there at 8:00 "AM"!!!....sigh...sucks to be me.
I'm thinking about starting another new page here at JL.com, it should be interesting, I have a couple of pages that are sort of doubled up with the same info...sooo, I think (if I can find the time) I will start making a new page.
Anyhoo gang, my 'Habs' are losing, it's been a long week, and I'm exhausted...gotta go get some grub, ciao!
02/17/03 (09:01 a.m. AST) Well, Monday...did that weekend ever go by in a blur of nothingness! That weekend went by faster than a twinkie in a fat lady's hand...ah well.
I hope that all you fellas remembered to get your SO (significant other) something for valentine's. If you see some guys walking around the office today whistling, smiling, or just in general good humour....they remembered. If you see others walking around with this "my best friend can't come out to play for a very long time because I'm a dufus and got him in trouble" look on his face...they didn't...and their sex lives and all the control over it is now strictly in the hands of their SO's. Suckas!
Well, didn't reach the goal of 20K hits to the site by the 2-year anniversary of the site (yesterday)...but we got to just over 17K so that's cool, but it sure would be nice to hit 50K before our 3-year!
Anyhoo, guess it's time to do some work now! Later.
02/14/03 (03:30 p.m. AST) HAPPY VALENTINE'S DAY!!
02/13/03 (08:50 a.m. AST) Oh, my God! Will winter just hurry up and die!...self-implode!...cease to exist! This is getting ridiculous! It's -35C (-31F) out today and that's not the kicker...we got 10cm + of snow last night, that's not the kicker either...it's supposed to be -45C (-49F) tomorrow!!! That's insane! Happy Vanlentine's,
speaking of Valentine's (like that seguay? heh...)...guys, get your asses in gear your sex life depends on it! You better have something nice for the "SO" (significant other) by tomorrow or your screwed...and not in the sense you want to be!
Not much else going on, had a little fender bender with a cabbie the other day, another reason I want winter gone, the roads are the sh!ts!!! Is it me or is the city just not plowing them properly this year?? There is always snow on the roads, the snow banks are so freakin' big you have to have your car half way into oncoming traffic before you can actually 'see' the oncoming traffic, forget actually trying to stop in a 'hurry'! Assholes, plow the freakin' roads!!!
Made a few additions to the Home Theater Page, but other than that...that's it! Back to work...Friday tomorrow...weeee!
02/07/03 (11:50 a.m. AST) Ahhh, finally Friday...what a relief, I thought this week was never going to die! I haven't been in much because a couple of the guys at work got me hooked on a new game called Midnite Challenge...Warning: This game is aVERY "addictive" game. It's all played online, and against real people...Anyhoo...gotta go, I think I've raised enough money to buy the NOS Kit (in the game)...ciao!
02/04/03 (08:50 a.m. AST) Wow, I actually got my wish yesterday. About 11:am the power went out here at work...we waited about half and hour and someone finally called it and sent us home. Tom brought his drumset into work yesterday and set it up out in the warehouse, so after the power went out, we went out and slammed on those for a bit...man I haven't touched drums in years...so that was cool. It's still nasty around here, at one point yesterday up to 60,000 people were without power and heat, the roads are a mess, and now it's freakin' -16C! It's not bad enough that everything is under about 2" of ice with about 10cm of snow on top of it now it's bloody cold out too! Oh!...and here's the !$@#&%* 'icing'...tonight's weather report (have I mentioned that I hate winter?): "increasing cloudiness, ice pellets, freezing rain, and overnight about 5cm of snow"....sigh, just bloody lovely!
02/01/03 (01:23 p.m. AST) It's the start of February guys...T-Minus 14 days before some of us get lavished with lot's of praise (read:sex)!....or some of us get no booty (read:you ain't gettin' none loser) for months! That's right guys in 13 days (not including today) it's one of the 4 most important time's of the year...here's what I told you last year:
you have four days a year that are the most important days of the year (No not Superbowl). And yes there are others but these are the most important (No, not the Stanley Cup Final game), Christmas, HER Birthday (not yours) Your Anniversary (and no I don't mean the anniversary of when you lost your virginity or some other thing like that that is only significant to you...I mean your's together)and Valentine's Day! My advice guys, take down your Playboy calendar off of the wall (No not to throw it away, heaven forbid!) take a BLACK marker and circle the whole week that these specific days land on. THEN, take a RED marker and circle the actual day itself! See, it's that simple, then not only on your favorite calendar do you have boobies to look at...you save your ass from not getting any for about a month after that day because you forgot it! God I'm a genious! Get hoppin' boys...your sex life depends on it...this is the one day your assured of getting some...BUT only if you have the appropriate gift (no not a porn video)...GOOD LUCK GENTS!.
So get cracking fellas' I've given you two weeks warning! Speaking of good things...I got my speakers last night...and now I'm off to play with them!!

January 2003

01/31/03 (10:50 a.m. AST) Hey gang, wow, the end of January...boy did that one ever go by quick! But hey it's Friday and thats a great thing right!? Speaking of great...there might be some new speakers arriving this weekend...not sure but maybe...and that is verrrry gooood. Oh I can't wait!!! Anyhoo gang, enough goofing off, time to do some work.
01/29/03 (08:06 p.m. AST) Not much happening today gang...just pluggin' away at the ol' grind and pluggin' on the site a little bit, I added a little bit more to the Home Theater Page and I also added a new Gallery to the Canadian Hotties Page...check it all out! Well the temperature went up to an almost balmy -6C today...wow! That's almost short and t-shirt weather! Ahh summer why hath thy forsaken me!?! Anyhoo gang...gotta get outta here things to see people to do...heh.
01/27/03 (10:00 a.m. AST) Oh my God it is such a "Monday"! It's not just that it 'is' Monday, it is so 'being' the essence of a Monday! Here's my day so far: My shower head breaks last night so no shower this morning, I oversleep, my Dad stayed over last night so I can't even be loud and grumpy this morning, it snowed last night, I have to clean off my car, the end of my driveway is full thanks to Mr. Plow dumbass, no morning coffee...and the topper; as I'm late for work...try sliding down a four lane thru-way (Wheeler Blvd.) over a bridge and across an on-ramp...backwards!! Did I mention that I was late for this morning? So that is how my day/week started, and it's only 10:00am!!! I wish there were "do-over's" in real life dammit...'cause this definately calls for a do-over! Oh!...and for the 200 smucks that passed me without even blinking an eye while I tried to get myself out of the snowbank that I plowed sideways into...I hope that I see every last one of you in at 'least' as bad a situation so I can drive by and laugh at all you dumbass's. To the couple of guys that stopped and helped me out...gee, there are some nice people left in the world...thank-you. God just let me survive this day/week!
01/23/03 (10:00 a.m. AST) OK, winter is reeeally starting to get on my nerves. In the minus thirties for two straight weeks now, now today it "starts" to warm up (yah warm up, a high of -5...almost balmy!), and what does that mean? Well gee, whatta yah think, it's warm enough to snow! They're calling for 5+cm of snow for tomorrow...dammit enough already. If I'm not freezing my nuts off I'm up to them in snow, thus freezing them off yet again. I gotta win the lottery or something so I can buy me some summer! Sigh/brrr/etc.
01/22/03 (08:45 a.m. AST) S-s-s-so cold...t-t-t-to cold to t-t-type. -37C right now...type more when thawed o-o-out.
01/17/03 (08:45 a.m. AST) So what is with this freakin' cold weather? Geezuz, I mean come on, I know it's January, but this is ridiculous. The minus 30's for like a week now...God... So, I'm driving in the Wal-mart parking lot the other night...yes, it's freakin' bitchin' cold out...and I'm driving down the lane looking for the closest parking place possible, knowing full well that the first spot is reserved for the handi-"capable". So I see this car backing out of the second spot from the door ahead of me and I go to turn in...hmmm, what's this? That's not an HC sign...pull in a little closer and see...ready for this Reserved For People With Children. Are they out of their freakin' minds!? So now I have to either have to have a bum leg or have spawned to get the best parking space!? Now the HC sign I can understand...but I was speaking of ridiculous earlier, sigh. I mean why don't they have a sign "Reserved For People In A Really Big Hurry", "Reserved For Dumbasses Too Lazy To Walk From 4 Spaces Out", "Reserved For People Who Don't Want To Freeze Their Nuts Off", "Reserved For Guys Who Really Don't Want Be Here But Their Wives/Girlfriends Dorve Them Crazy Until They Drove Them Too The Freakin' Wal-Mart"....sigh, but I doubt any of those are going to happen.
01/15/03 (09:00 a.m. AST) What? Wednesday? BLur....geez. Wow am I out of shape, went to play ball hockey last night with some buddies and damn, give me my oxygen tank and my wheel chair now! Had a blast though and have to give a shout out to Mikey, thanks for including me pal! Man my legs feel like rubber today...sigh, and they want to do this every Tuesday...yah sure, you bring the oxygen, I'm there! Anyhoo, not much else is up, swamped with paperwork here on the jobsite, saving to buy my next speaker(s) etc. and trying to keep everything going full steam ahead.
I had to express my condolences to the Gibb family, we lost yet another influential person in the history of music the other day. Maurice Gibb died at the age of 53, way to early. You may not have like the music of the 'Brothers Gibb' (Bee Gees) but I guarantee you've danced to at least one of their songs. He wrote and produced for some of the biggest acts in music, and his influence on the industry will be missed.
01/13/03 (12:01 p.m. AST) Hey folks, haven't been in in a few days, I've been buried under paper work here at work and haven't really had the time to look at other things. The amount of submission's to the Canadian Hotties page has dwindled considerably, basically to none...disappointing really, thought that more people would want to contribute and look at good looking canuck women...oh well, may be time for a new page...we'll see. I have kept adding to the new glossary on the Home Theater page...for those of you interested in that...but hey it's Monday, I'm swamped...gotta get back to my paperwork. yay me.
01/06/03 (08:54 p.m. AST) Wow, I haven't been here in 5 days, geezuz. I guess it's because I've been too busy shovelling...yah that's right it's started again, over 30cm of snow on Saturday...and those damn bastards are back to filling the end of my driveway again. Ahh well, that just meant I got to stay inside and enjoy my new toy that I bought this weekend, my new Paradigm CC-170 center channel speaker, this is one sweet little piece of hardware...oh geezuz I'm starting to sound like Paul. Anyhoo, gotta get some work done...later.
01/01/03 (06:00 p.m. AST) HAPPY NEW YEAR!!!
Hopefully everyone survived safe and secure (hangover's aside) from whatever festivities you did partake of last night! Here we go into 2003...wheeeee!
Back To Home Page!
Home Page